Poole Law Office PLLC is a law firm located in Duluth, Minnesota. Our areas of expertise include Duluth criminal defense, DWI or DUI, and divorce. We strive for big law firm results while delivering a personal and attention driven experience. We are in this business to help people, which is why we know our clients by name and not a file number. At Poole Law Office PLLC you will have access to the lawyer you hired, rather than constantly working with an assistant or secretary. Our number one goal is to provide excellent and affordable legal representation, and we offer reduced rates to current or former military service members. For a free consultation, contact our Duluth criminal defense lawyer now.
Duluth, MN Criminal Lawyer
Andrew T. Poole of Poole Law Office PLLC has handled hundreds of criminal law cases in Duluth, MN, and has represented people at all stages of a criminal case, including trial and appeal. As a criminal defense lawyer, he will help you navigate the local criminal law system. He will thoroughly analyze your matter, ensure your rights are protected, and take your case to jury trial if necessary. The primary goal is to achieve the best possible resolution so you can move on with your life. If you are charged with a criminal offense in Duluth, MN, including, but not limited to, DWI or DUI, ensure your rights are protected by contacting a criminal defense lawyer in Duluth, MN. Poole Law Office PLLC serves the entire arrowhead region of Minnesota, including Cloquet and Carlton County, Two Harbors and Lake County, Grand Marais and Cook County, Grand Rapids and Itasca County, and all of St. Louis County, including Hibbing and Virginia.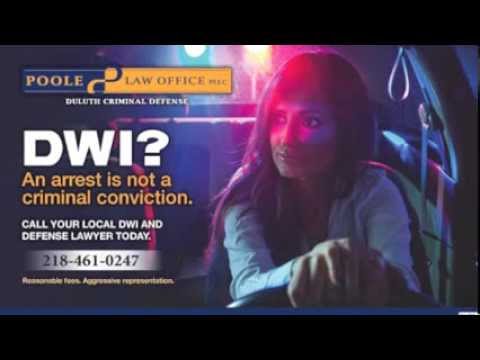 Criminal Defense and Divorce in Duluth, Minnesota
In addition to criminal defense, Poole Law Office PLLC represents clients in all area of family law, including divorce. When you or your spouse first utters the "D" word, naturally you become overwhelmed with emotions. But that is not the time to do something rash and regretful, or to delude yourself into thinking you have total control over the situation. Regardless of who initiates a marital divorce/dissolution, you should consult an experienced divorce attorney in Duluth immediately. It is imperative that you proceed with guidance under the divorce laws and not on your emotions. Without proper legal guidance, you and your children might be left with a result you will live to regret.